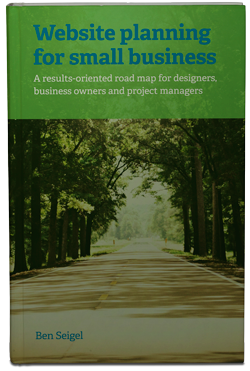 Hi there. Maybe you found our guide on Smashing Magazine, or via the all-powerful Google. The guide has grown into a full book, complete with new chapters on Responsive Web Design, CMS, needs assessments and more!
You'll learn
How to get better results with a needs assessment
How proper planning can save hours or days of aggravation and re-work
Why branding is critical to designing a good website
Who owns and runs the website (hint: it's not your "IT Guy")
Why to avoid proprietary CMS
Principles of RWD (Responsive Web Design) - making your site work on mobile devices
and so much more. The previous version of this book was published by Smashing Magazine, with over 12,000 copies distributed.
Start saving time and money today
Not ready to buy today? Grab a sample excerpt!
---